Dreaming of travel? We are too. When you are ready to travel, 21c will be ready for you and we know just the place to visit… no surprise to us, Lexington made Travel + Leisure's 50 Best Places to Travel in 2021 list. We've known for a long time that this city is special and if you haven't experienced Horse Country for yourself, 2021 may just be the perfect year to do it. Ready to hit the road? We asked our team of experts to share some of their favorite must-visit places in and around Lexington. Add these hidden gems to your itinerary and experience Lexington like a local!
Find yourself needing more time to explore during your visit? Head to our offers page to see current deals.
Country Boy Brewery
Looking for a cold brew? Head less than a mile down the road to Country Boy Brewing, a cozy craft brewery taproom with food truck. Hang on the outdoor patio and play oversized Jenga with friends or cheer on your favorite sports team from the big screen TVs inside by the bar.
Teammate Take:

"Country Boy Brewing is one of Lexington's oldest craft breweries with a full 24 tap board of their own creations. From flagship beers like Cougar Bait and Shotgun Wedding to their sours and other experimental beers, Country Boy always has a beer for everyone in your party to enjoy. The CBB kitchen food truck which is permanently onsite has the best wings in town!" – BP
Mirror Twin Brewing 
Another great option for craft beer seekers, is Mirror Twin Brewing, which has two buildings offering somewhat different experiences – a more traditional taproom and full bar with brick oven pizzas. The tap room lists 20 drafts – eight staples and 12 limited releases, all cleverly named and many available in cans.
Teammate Take: 

"You, Me & Mr. PB is a must try – it's a peanut butter stout, which pays respect to the JIF plant nearby. NEIPA fans will also feel right at home with their draft selection – try the Hazy Birthday if they have it. Just across the parking lot is the newer building with a full bar. Rolling Oven operates inside both locations, offering pizza and roasted snacks. I love the Focosa with pomodoro sauce, salami, fresh garlic, roma tomatoes, and fresh mozzarella, finished with cracked black pepper." – GI
Lussi Brown Coffee Bar
As their skull and crossbones logo suggests, the skilled baristas at Lussi Brown invite you to pick your poison. Giving a new meaning to the term coffee bar, their menu features your favorite hot and iced classics alongside creative coffee and tea cocktails, so you can get your caffeine and bourbon fix in one.
Teammate Take: 

"Try a unique monthly special, always appropriately themed for the season and a little fancier than your usual PSL, or put a local spin on your go-to with one of their house-made syrups. Another reason to love this gem: their dedication to community involvement and they feature a mini rotating exhibition of local art and an array of snacks available from local purveyors." – HG
Dudley's On Short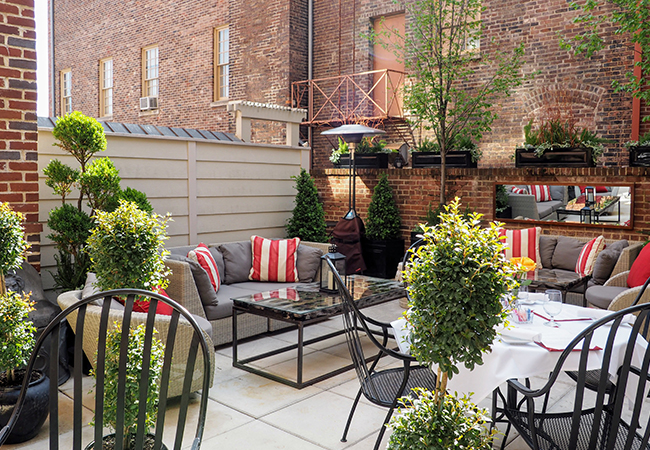 For over 40 years, Dudley's On Short has been a Lexington staple. Specializing in local foods and simple preparations, Dudley's is the perfect place for a date night or excuse to treat yourself.
Teammate Take:

"Dudley's is a great spot in the heart of downtown. Find local artwork showcasing what Kentucky is best known for – horses – adorning the walls of this Lexington staple. Have dinner on the rooftop during Summer or look out over downtown from the lounge with a cocktail in hand when it's chilly – this walkable spot is a must when visiting Lexington!" – AT
Green Lantern Bar
Step into the Lexington night life scene like a local with a drink and live music at The Green Lantern Bar, a small dive bar on Third and Jefferson.
Teammate Take: 

"The Green Lantern Bar is an inclusive space that welcomes all. Though music is not currently an option, the Lantern has been host to any genre of music you can imagine, and has seen many artists who, at the time were "unknown", and are now very popular, like Tyler Childers. The Lantern is also home to Lexington's finest Rum selection, and often provides unique Tiki cocktails on Tuesday and Sunday." –  AR
Justin's House of Bourbon
Don't forget the bourbon – you are in the heart of bourbon country after all! Tucked in a cozy historic home along Main Street is Justin's House of Bourbon.
Teammate Take: 

"Filled wall-to-wall with Kentucky's famous spirit, including a professionally-lit section of old and rare finds resembling a glass case at a history museum, this place is for the enthusiast. Pick up a bottle of a Bluegrass staple or sample some of the newest bourbons on the market at their in-store bar. Bourbon newcomers not to beware – the expert staff serve as excellent guides." – HG
Scout Antique & Modern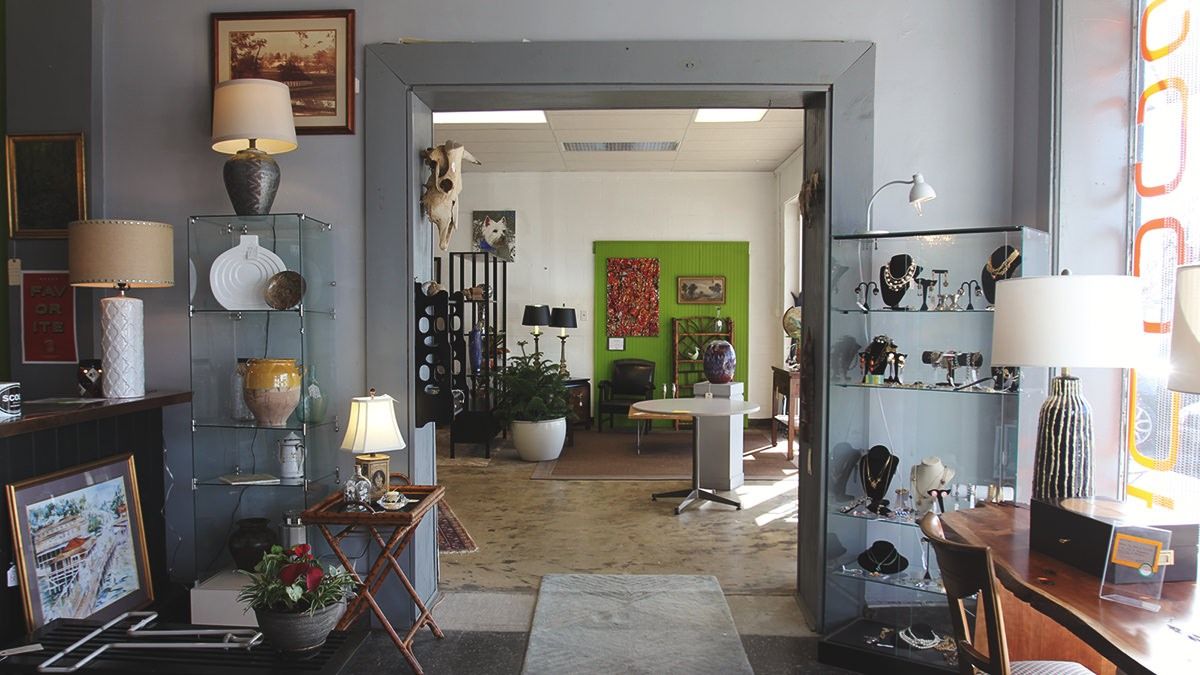 In need of a new statement furniture piece or just a stroll to peruse through one-of-a-kind vintage finds? Scout Antique & Modern is the place for you.
Teammate Take: 

"Scout Antique & Modern is a fun destination for eclectic antiques and 20th century modern designs – furniture, art, lighting, rugs, tchotchkes… they've got it all. Named after the owners' dog, Scout's inventory is constantly changing. Walking through once a week, I'll see something new each time. And they do a great job of sharing new furniture finds on social – their Instagram is definitely worth a follow if you want to keep in touch!" – GI

Fun fact: the bar featured in the Harmon Room at 21c came from Scout!
More Flock Favorites: