Dreaming of travel? We are too. When you are ready to travel, 21c will be ready for you and we know just the place to visit… no surprise to us, Cincinnati made Travel + Leisure's 50 Best Places to Travel in 2021 list. We've known for a long time that this city is special and if you haven't experienced the Queen City for yourself, 2021 may just be the perfect year to do it. Ready to hit the road? We asked our team of experts to share some of their favorite must-visit places in and around the city. Add these hidden gems to your itinerary and experience Cincinnati like a local!
The Purple People Bridge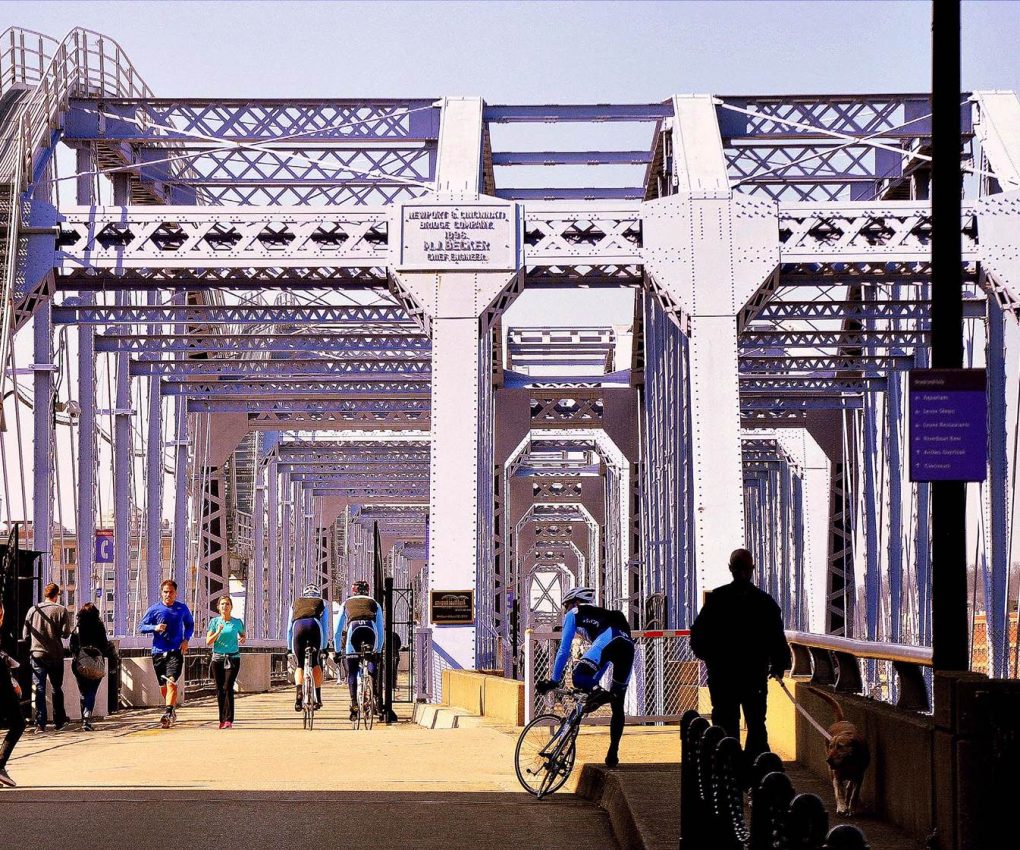 The Newport Southbank Bridge — popularly known by locals as the Purple People Bridge — is a pedestrian-only bridge that stretches half a mile across the Ohio River, connecting Newport, Kentucky to downtown Cincinnati and to trails along the river in both states. It's a great way to get from Cincinnati to the shops, restaurants, bars and cinema in Newport. This bridge is one of 9 bridges crossing the river. Find yourself lost? Just look for the purple one!
Teammate Take:

"Highly recommended for a run! A local favorite is Party on the Purple, a summer concert series with live bands and food trucks (Wednesday nights 6-10pm)."
Serpentine Wall
Didn't get all your steps in from walking the bridge? Head to the Serpentine Wall, which is part of Sawyer Point & Yeatman's Cove. The wall makes up a mile-long stretch of park along Cincinnati's riverfront between Smale Riverfront Park and Berry International Friendship Park. In the warm months, the park is home to many of the region's most popular outdoor performances and festivals. It's also a great place to relax in the sun, read a good book and take in the view of the river and Northern Kentucky, while the lower pavilion is great for jogging, riding a bike and walking your dog.
Teammate Take: 

"This is THE place for watching the RiverFest Fireworks on Labor Day weekend, attending Bunbury Music Festival and a great spot for enjoying a picnic lunch from a nearby restaurant at The Banks."
Ohio Book Store
Speaking of a good read… If you've ever found yourself loading up more books than you could carry at the library, the Ohio Book Store is the place for you. Have a favorite book that's seen better days? They offer book repair too!
The Rhined
In charge of snacks at your next book club gathering? The Rhined is a specialty cut-to-order cheese and wine shop located in the Over-the-Rhine neighborhood of Cincinnati. They focus on domestic, small batch cheese and also offer many regional selections – made by hand and chosen with care. They use the same philosophy with their wine offerings – selecting wines from small producers with prominent taste of place. Enjoy your hunk of cheese + bottle of wine in the shop or in the courtyard. Can't decide? Order a cheese flight! The Rhined team is super knowledgeable and always at the ready with a cheesy joke!
Teammate Take:

"Favorite wine + cheese pairing: Sofia Creamy Goat Cheese + a bottle of Mirgin Cava. Pro-tip: Join their Cheese Club, or gift it to a friend or your boo!"
Findlay Market
Also in OTR, is local staple, Findlay Market, Ohio's oldest public market. Located just blocks from downtown in Over-the-Rhine, a dense historic neighborhood rich in 19th century architecture, Findlay Market remains the bustling center of farm fresh, locally sourced, artisanal and specialty foods. Stock your fridge on the weekends with a visit to their outdoor farmer's market, while you enjoy performances by local street performers and other special events.
Teammate Take: 

"Grab lunch at Gramma Debbie's Kitchen and get the vegan burger!"

"Try the Lavender Latte from Deeper Roots Coffee or the Cheddar Spinach Scone from Blue Oven Bakery!" 
mecca OTR
Art meets craft cocktails at mecca OTR, an immersive art-driven bar experience in OTR. Unlike any other bar in the city, Mecca pulls it's inspiration from the local art community. Every surface at Mecca is painted and activated by local hands, from the walls to the floors, table tops and bathroom mirrors. Ferns hang from the ceiling to "pump oxygen into the space" and incense burns to help create the vibe, while the bar program follows the "keep it simple stupid" code.
This is a place that celebrates the coolness of Cincinnati's creatives. "It's about creativity. It's about good vibes," owner Joe Creighton says, "I want people coming in from out of town to see something they can't see in their hometown. I want people to say, 'This is Cincinnati,' not 'This reminds me of New York or Portland."'
Teammate Take:

"The murals in the bar are fine and all, but the artistry in the bathroom stalls is not to be missed ."

"The elephant mural on the patio painted by Vince Dibiaso of Elite Customz is a favorite!"
16-Bit Bar+Arcade
Are you a beer-centric type looking to switch up your night out? 16-Bit Bar+Arcade is the place for you. Named after the computer architecture that several of their 50+ vintage arcade cabinets were built on, 16-Bit offers a playful vibe where you can relive your childhood and also enjoy a tasty local brew.
Teammate Take:

"The Star Wars and Indiana Jones pinball games are classic fun, and they conveniently have a side table for a cold PBR."

"Take a trip down memory lane with a game of Mortal Combat while drinking a Hulk Hogan! Their signature cocktail with blueberry vodka, lemonade & a bomb pop!"
The Observation Deck at Carew Tower
Looking for a view? Completed in 1930, Carew Tower stands 49 stories tall in the heart of downtown Cincinnati. For just a few bucks, visitors can ride an elevator up to the 49th floor for spectacular sweeping views of the city. The observation Deck is currently closed but expected to re-open to the public in the spring of 2021.
The Cincinnati Bell Connector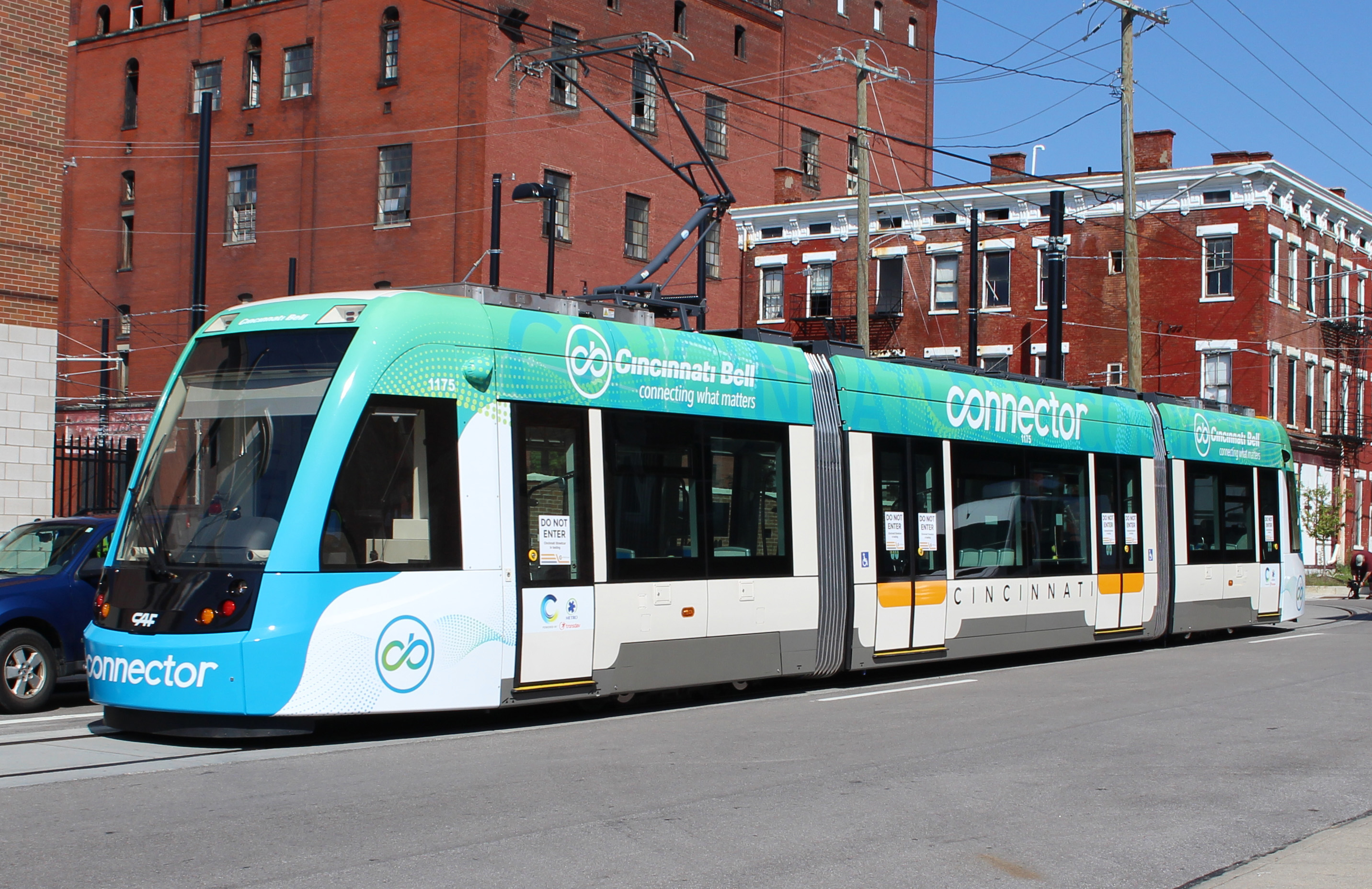 Need a lift? Hop on the Cincinnati Bell Connector! The streetcar's 3.6-mile loop connects major destinations including The Banks, Smale Riverfront Park, Fountain Square, Aronoff Center, Contemporary Arts Center, Music Hall, Washington Park, Over The Rhine, and Findlay Market. Right now it's free to ride, but typically costs $1 for 2 hours of riding. The Connector, with 18 stops, is a great way to see the city with plenty of opportunities to hop on and off.
Washington Park
At the center of OTR, you'll find Washington Park, which is located across from historic Music Hall. This expansive public park includes a playground for kids with a play castle, climbing wall, sandbox and slides; interactive water features with more than 130 pop-up jets to provide cool relief on hot days; historic restored bandstand gazebo for weekly live music; a fenced-in dog area with 12,000 square feet, synthetic turf and a doggy-water fountain; American Classical Music Walk of Fame and more. Plus, the park hosts various entertainment events and festivals throughout the year.
Teammate Take: 

"Movie nights are where its at! They are usually themed too – Beetlejuice for Halloween was a blast!"
Rhinegeist Brewery
Is your crew thirsty? There's a beer for everyone at Rhinegeist Brewery. Built within the skeleton of the old Moerlein bottling plant located in the Over-the-Rhine historical district, the taproom is a giant indoor adult playground with cornhole, ping pong and more. Kids (and anyone under the age of 21) are allowed in the taproom until 8pm on Thursday, Friday and Saturday nights. Ages 21+ can head up to the rooftop deck for more brews plus cocktails and views of downtown and the surrounding areas. Food can be brought into the taproom and is also available for purchase from the food stand serving items from Sartre OTR located next door.
Teammate Take: 

"The Wowie Pineapple Ale is AMAZING."
Find yourself needing more time to explore? Head to our offers page to see current offers.